"Sculpture, like all art, is a means for discovering the world and understanding its secrets"

(Olivier Delahaye, Le Ventre lisse, 2005)
How many declinations does art know? Among all possible nuances employed by an artist in order to shape his vision of the world, we have tried to analyse the ways by which the perceptions of the five sculptors unfold.
Five artists: by no means a random number. It is a highly symbolic and evocative number which, since ancient times, is associated with experimenting, with the concrete knowledge of facts, with transformation, with the "changing aspects" of a situation.
The ancient Greeks associated this number with Hermes, the messenger of the Gods, the connection between sky and earth. Five are also the human senses which serve as a compass to the human being through his life: from an emotional, mental and physical point of view to an ever-changing condition.
Number five is the symbol for a polymorphic mind, which is constantly devoted to intelligence and curiosity and has the tendency to reach extreme limits and transgressive boundaries, sometimes in dangerous ways.
Number five is associated with the fifth letter of the Hebrew alphabet: "Hey" (ה) which means intuition and illumination. The Kabbalists identify three stages in the letter "Hey", based on three different, subsequent levels, regarding the development of human awareness throughout one's life.
The mystery of birth and the complete unawareness in which the human being is "flung" into this world, are overcome by the enthusiastic discovery of the beauty and richness existing in the world around us. We thus succeed in understanding that mysterious power within our lives which drives us beyond existing reality.
We should not forget that this number withholds the power of self-expression. In fact, the physical components corresponding to our ability to speak are exactly five: tongue, teeth, palate, lips and throat. Indeed, the complex interaction between the intellect and word is precisely what allows the number five to indicate the usage of every kind of inner and external discipline in order to shift our personality from a state of uneasiness and a search for an "aliquid" to a desired condition. Only by mastering communication, the formulation of ideas and feelings together with the expression of facts, can a balanced exchange and personal development be achieved.
Such intense symbology is to be found in the various forms of the works presented by these five sculptors. Harmony and contrast, research and sublimation merge in their works.
Sculpture represents the concrete attempt to shape the world around us and, at the same time, to infuse it with perceptions, which impress the human soul in the most powerful way. By offering their personal interpretation and their acute analysis of their own senses, each of the five artists is transformed into a "privileged medium".
---
THE  FIVE  SOULS OF SCULPTURE – III° EDITION
THE ARTISTS
Alexandra Slava Sevostianova, is the youngest of the artists selected for this third edition. Hers is a career of promising success: at the age of only twenty, She has already achieved important acknowledgements among which that of the Art Renewal Center and her works have already been on display in private collections in Ukraine, Malta, France and Italy.
She will exhibit four works at The Five Souls of Culture in which, in accordance with anatomical rigour, reflecting a classical perfection, the artist's strong sensitivity is based, and who knows how to look beyond the circumstances by gliding on the wings of her own emotions.
Her sculptures manifest themselves by the struggle in which the artist engages in favour of beauty and truth countering the triviality of everyday life. Precisely this desire to free herself from shameful daily things in the name of a greater ideal is the primary inspiration of "Call for Angels" a sculpture which is a programmatic manifestation of the emotions which thrust the artist towards the creative act.
"My Ukraine" is a tribute to her native country, held tight in the in the coils of serpents which have not managed to bend its strength and which is ready to resurrect even more beautiful than before. "The Unbearable Lightness" expresses all the unsustainable irresponsibility in many amorous relationships, experienced in the ups and downs of daily life, but does not want abandon the desire to sublime oneself in an eternal and incorruptible feeling. "Take My Pain Away" is a self-portrait in which the artist does not hesitate to expose herself to the spectator, in all its own inner fragility.
Cecilia Martin Birsa says she cannot live with art – "without it I could only survive".
It is precisely this unrenounceable urgency, such as breathing, which             emerges in her sculptures. They are realized with an unusual medium which surprises us for its simplicity and its form that the sculptress manages with  great effort  to create: The stone of rivers with all its atavic unpredictability which "speaks of magma, abysses, ice and earth".
Medium such as mucronite, granite or serpentine require a real act of maieutics in order to free those forms which await in a state of drowsiness, which endured hundreds, perhaps thousands of years to reawaken.
Cecilia Martin Birsa will propose three of her works at The Five Souls of Sculpture which were hailed as a great success on the occasion of her latest personal exhibition in Venice at the Rosenberg Gallery, which coincided with the 5Th. centenary of the Venetian Jewish Ghetto: "Arcuata", "Donna allo Specchio" and "Nodo Nero".
 In these sculptures, the artist manages to liberate from stone forms of atavic sensuality of her own female universe, which reveals itself to be solidly bound to that arcane and inexhaustible mystery that is life and which is reached through everything that revolves around it.
---
Her artistic development may be witnessed in her creation of sculptural volumes in a more  efficient and expressive communicative form.
The works on exhibit at The Five Souls of Sculpture eloquently express a phase of strong artistic inspiration from whose emotions new creative solutions emerge. Thus works             like "Black and White", "Thrill" and "Metamorphosis" are born.
They are small sculptures formed in plexiglass in which the transparency of the material integrates with desired abstract forms and colours which contrast with each other, as it is possible to admire the two faces of the sculpture in an emotional short circuit which reflects the artist's strong artistic emotionality as well as the continuous state of metamorphosis in which she exerts her own sensitivity by means of the creative process.
---
Roberto Piaia has always represented the female soul  infusing in his pictorial and sculptural works The teachings of strongly innovative techniques by the ancient masters, fruit of his studies and constant experimentation, which make him an authentic pioneer.
Mr Piaia, creator of the Assurfivo pictorial technique, officially entered the Aristocracy of Italy's finest artists in 2009, having been awarded the AIC (High Critical Interest) classification by the Modern Art Catalogue Critical Committee which is edited by Mondadori.
He exhibited at the 54th. Biennale of Venice – Italian pavilion in 2011 and officially presented his first Carrara marble statue "Iris" together with an oil painting entitled "Darya in Cladico".
His research has brought about a re-elaboration in the sculptural sector of an artistic Ideology in which the classical unites with dynamicity.  His sculptures therefore represent, at the same time, both pictorial and sculptural elements.
His sculptural creations are realized by employing statutory marble or a bronze fusion. While maintaining the female figure as the subject of his inspiration, the body mass is composed of a double propeller which rotates around itself, thus creating a spiral.
Mr. Piaia will present at the Five Souls of Sculpture his works "Mudra" and "Oltre in Bronzo" one in bronze and the other in an alloy of bronze and steel, the result of personal studies and experimentations. In "Mudra", Mr Piaia transposes on the sculptural level his own Assurfivo concepts which fuse inseparably representations which we only discover are apparently incompatible: the figurative realism of face and hands separate themselves from the classical academic composure into the spiraling volume of the body,  in which the forms recall typically surrealistic concepts dominated by mystery and fantasy.
In "Oltre in Bronzo" the concept of lightness and material decomposition are underlined by the transposition of the female body into a double propeller in which the execution borders on the utopia in "a Machiavellic study of solids and voids"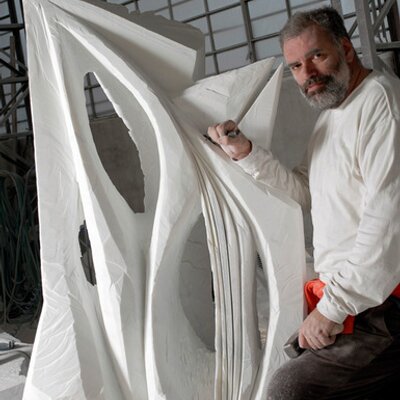 Pablo Atchugarry divides his time between Uruguay, his native country, and Italy where he has been living since 1978. Since the beginning of his career he has dedicated his artistic sculptural research by expressing his own poetic talent by means of various materials: he first worked with cement, wood and metals until he later used Carrara statuary marble with which he has created his famous monumental sculptures.
Once he moved to Lecco (Italy) in 1978, he began experimenting and creating monumental sculptures in Carrara marble. His first tribute could not be other than to Michelangelo Buonarroti with two works: "La Lumiere" and "La Pietate".
He, already an artistic icon in Uruguay,created the sculpted group "Soñando la Paz" on  the occasion of the 50th Exhibition La Biennale in Venice.
 In 2015 he presented 40 of his works at a personal "Pablo Atchugarry – Città Eterna, Eterni Marmi" exhibition at the Fori Imperiali Museum in Rome. He also created a sculpture engraved in olive wood, which was more than 800 years old, for the Uruguayan pavilion at Expo 2015, entitled "La vida después de la vida".
On the occasion of The Five Souls of Sculpture exhibition, he will present his latest creation "Senza Titolo" in Carrara statuary marble.
Pablo Atchugarry's chisel touch transforms marble in such a way that it seems to open up into candid folds, which change and are at the same time crystallized, thus indicating the apparent slow passage of Art, so typical of immortal creations.  Essential and pure forms are the language of this work which, void of a title decided by the artist, leaves the spectator free to interpret it within a range between signifier and signified.
Untitled, Statuary Carrara marble, h 60.5x30x22 cm, 2016